As a health and fitness enthusiast, you know that staying in shape can be expensive. Costs for gym memberships, personal trainers, and healthy food can add up quickly.
But what if there was a way to make money with your passion for fitness? Today, there are several fitness affiliate programs that will pay you for promoting fitness products.
In this blog post, we will discuss the 16 best health and fitness affiliate programs. These programs offer great commissions, and some even have recurring commission structures. Whether you're just getting started in the world of affiliate marketing or you're a seasoned pro, these programs are definitely worth checking out.
What Are Health and Fitness Affiliate Programs and How Do They Work?
 Affiliate programs are forms of marketing strategies that involve a brand establishing a relationship with affiliates and paying them a commission for referring customers to their products or services. The affiliate will earn a commission every time a customer who used their affiliate link purchases the promoted product or service.
The 16 Best Health and Fitness Affiliate Programs to Join
Now that we've covered the basics of fitness affiliate programs, let's take a look at the top 16 fitness affiliate programs.
1. Fitbit Affiliate Program
Fitbit, the world's leading fitness tracker manufacturer, has an affiliate program that allows websites and blogs from the United States and Canada to earn commission on sales referred by featuring Fitbit links or banners. Anyone can apply for free. However, the company reserves the right to approve affiliates with valid websites and email addresses.
The company pays a starting commission rate of 3%. This may seem a little small at first, but Fitbit's affiliate program offers higher rates to those who perform well.
The company offers the best in wrist-up wellness with an incredible 45-day cookie life. Plus, it has responsive affiliate managers who will be there every step of the way.
---
2. NASM Affiliate Program
The National Academy of Sports Medicine (NASM) is a worldwide leader in offering evidence-based certifications and advanced specializations for fitness professionals. Its objective is to enable fitness and wellness specialists to inspire consumers to live healthier life while also improving their earning potential.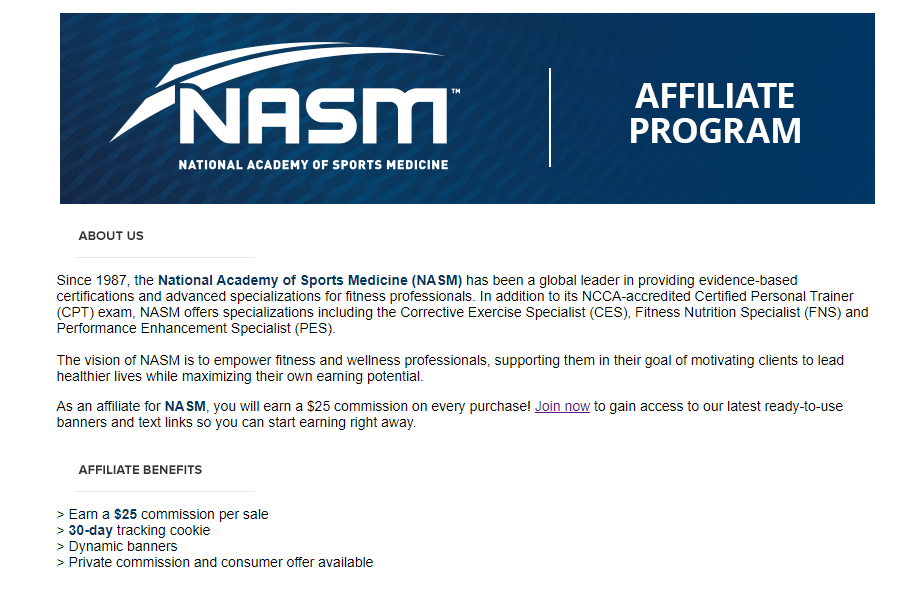 Once you sign up for their affiliate program, you will be provided dynamic banners to place on your website or blog. Every sale gets you a $25 commission with a 30-day cookie duration. If your personal and professional network is into fitness, this is the affiliate program for you.
---
3. Body Gym Affiliate Program
Another fitness affiliate program you can consider is one under Body Gym. With over 2 million customers worldwide, the company provides a portable workout system that helps people stay fit and healthy. It comes with a mobile application that contains different training programs and workout sessions that can be streamed while using the gear.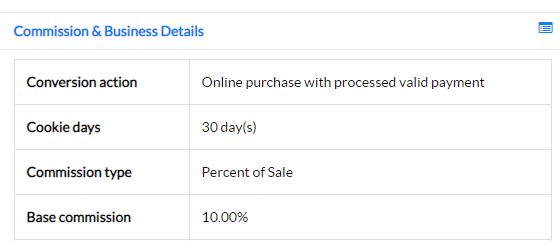 Body Gym has an affiliate program that offers a 10% base commission on all sales. It also has a 30-day cookie duration, which means that you'll still get credit for a sale even if the customer doesn't purchase right away. You can promote the program through banner ads, text links, and product reviews on your blog or website.
---
4. Ace Fitness Affiliate Program
ACE is one of the world's most trusted names in fitness and wellness. It offers accredited certifications, free information on healthy recipes and workouts to millions of people around the world through its website or social media pages. If you're passionate about fitness programs, signing up as an affiliate is worth considering.

Once you're accepted to its affiliate program, the company will provide you with a wide range of marketing tools—like banners, text links, ACE logo, and more—that can be used to promote its products on your blog or website. You can get up to 7% commission from every sale, which is relatively higher compared to other fitness affiliate programs. Having a 90-day cookie duration is an added advantage, too.
---
5. Titan Fitness Workout Affiliate Programs
Titan Fitness is the leading brand in weightlifting and exercise equipment. It manufactures a range of quality products that allow you to build your own professional gym at home, basement, or attic with ease.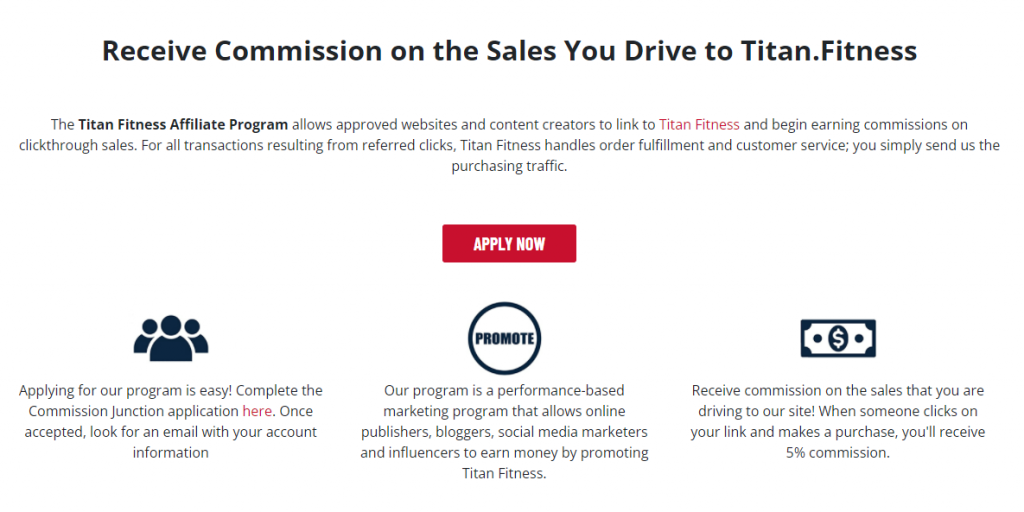 Signing up for its online fitness affiliate program is totally free. Once you're approved, you have the opportunity to earn a 5% commission on all sales that come from the customers you refer. You also have a 30-day cookie duration, a scheduled pay-out every 15th of every month, and access to a dashboard that enables you to track your progress
---
6. Al's Sporting Products Affiliate Program
Al's Sporting Goods has been around since 1972. It has sold over 500 brands, such as Nike, and Under Armour, and a variety of gear for camping, basketball, and more. It's a long-established, well-trusted store, so you'd be referring your audience to a quality shop. If you're into sports apparel and equipment, Al's Sporting Goods may be the affiliate program for you.

Its affiliate program offers a decent commission rate of 7% to 9%, with a cookie duration of 45 days. One more thing that's nice about the program is that you get specific discount promotions as an affiliate. You can share these discounts with your audience.
Plus, with over 500 brands in stock, there's something for everyone at Al's Sporting Goods. Whether your audience is into basketball, football, or even fishing, they'd be able to find what they're looking for.
---
7. Life Fitness Affiliate Program
Life Fitness is one of the world's largest fitness companies and its products are used in over 100 countries.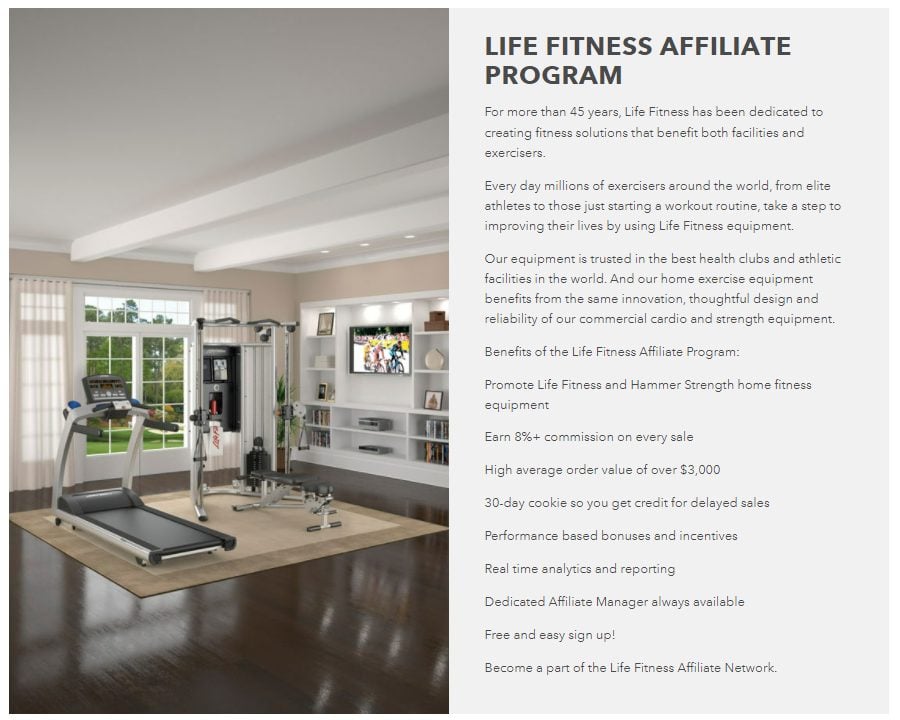 By promoting its home fitness gear and equipment as an affiliate and writing reviews on your webpage, you can get a minimum commission of 8% for every sake. You'd also get access to a wide range of marketing tools, which can help you promote Life Fitness products effectively. Plus, you'd have a 30-day cookie duration, which means that you'll still get credit for a sale even if the customer doesn't purchase a product immediately.
---
8. Gene Food Affiliate Link Program
Gene Food is a website that helps people craft a personalized diet. The site offers nutrition plans that are based on genetic data gathered from providers such as 23andme, Ancestry, and MyHeritage DNA.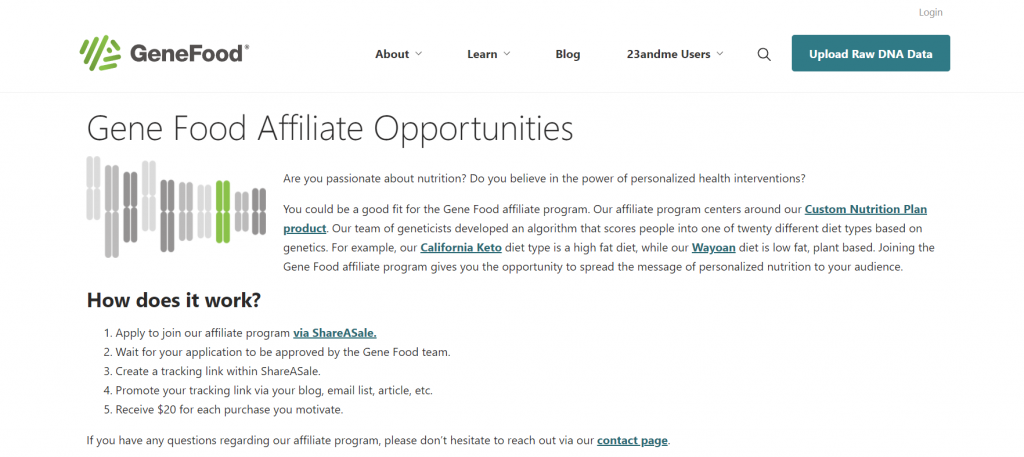 You can make money when you link your blog or website to its page. For every sale that comes from your referral, you'll earn a commission of $20. If you're looking for an affiliate program niche that's a little different from the rest, Gene Food is definitely worth checking out.
---
9. Myprotein Influencer Affiliate Program
Founded over 10 years ago in Europe, Myprotein is a leading sports nutrition brand. It offers high-quality goods like protein powder, vitamins, and minerals to people—of all ages—who are active or want to get in shape.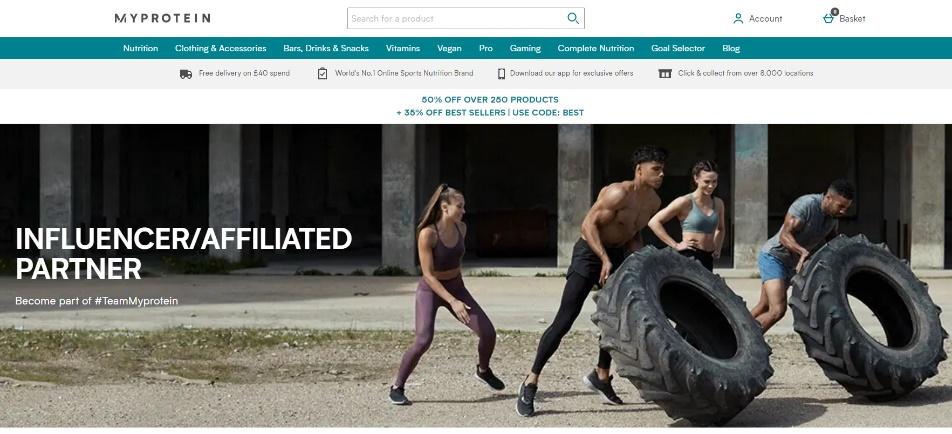 Joining the Myprotein Influencer Program is very easy, especially if you have the grit and passion as an influencer. Aside from the 8% commission you will receive on all sales from customers you drive to their site, you will also be eligible for exclusive affiliate promotions, plus connect with an in-house team of affiliates who can answer questions or assist you on marketing strategies.
---
10. Brute Force Affiliate Program
Brute Force is a Veteran-owned company that was founded with one purpose: to cultivate peak performance for the functional athlete. The company specializes in unstable, shifting load training workouts, and has been designing gear for law enforcement and the military since 2009.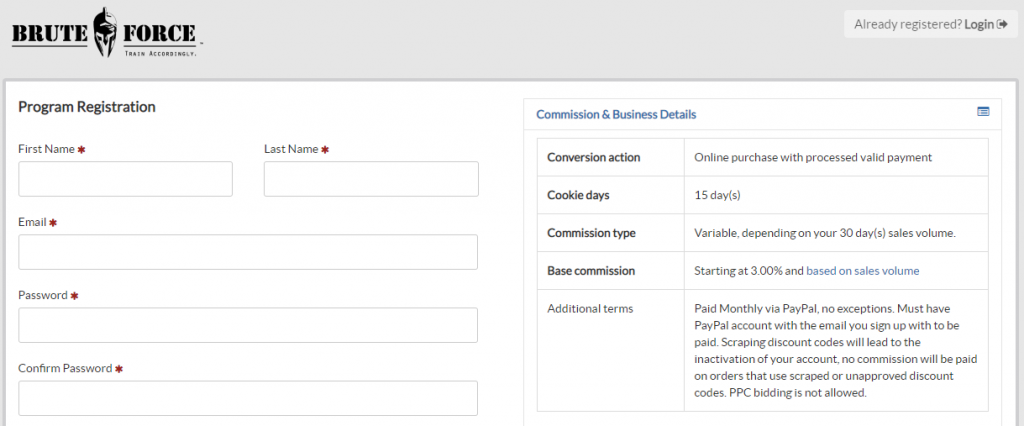 When you join their referral program, you get to start earning a commission of at least 3%. Not only that—you become eligible for a tiered commission scheme that starts at 10% commission and goes as high as 20%. The only limitation here is that you need to have a PayPal account to be paid. Also, while having just a 15-day cookie duration may seem too short, the duration gives sufficient time for your referrals to make a purchase.
---
11. Diamondback Fitness Affiliate Program
The award-winning designs and other industry achievements of Diamondback Fitness can be seen in every product they offer. Whether they be treadmills, elliptical machines, or rowing devices, the company has something for everyone. 

Joining its affiliate program is free and quite simple. Once you get access to the wide range of Diamondback Fitness banners and text links that you can post on your website, you'd have the opportunity to earn a 10% commission for every qualified purchase made by your audience. 
The program offers a cookie duration of 365 days. That means that you'd still earn a commission even if your customer decides to purchase something months after clicking on your link.
---
12. Nike Affiliate Program
One of the biggest sports companies in the world, Nike offers a fitness affiliate program that allows you to earn a commission on products purchased by customers who have clicked on your unique affiliate link. Nike's product range includes everything from men's and women's apparel to shoes and accessories, making it easy to find products that will appeal to your audience.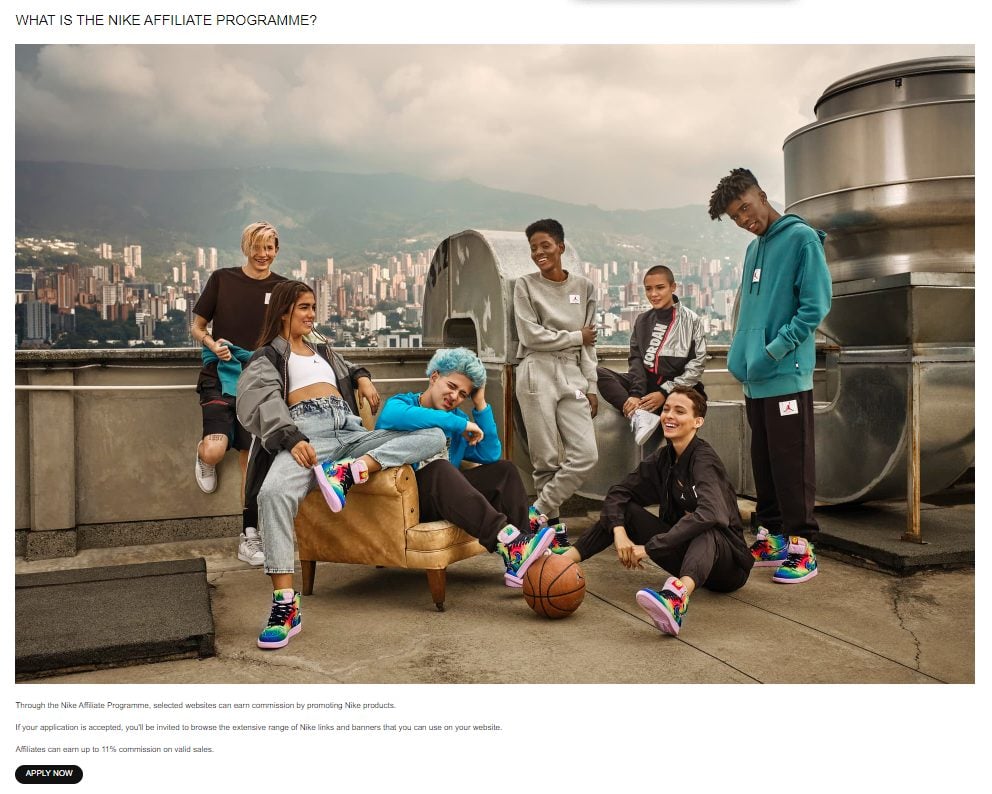 Once your affiliate application is accepted, you'll get the chance to earn up to 11% commission on all valid sales, a 30-day cookie duration, and access to Nike's full range of marketing resources. You'll also be informed about new products when they go live, so you won't miss out on opportunities to promote them to your audience.
---
13. Under Armour Affiliate Program
The Under Armour Affiliate Program is a great way for approved websites to start earning 5% commissions on their 100-dollar average clickthrough sales. With a cookie duration of 30 days, you can be sure to receive credit for any purchases made by customers who have clicked on your affiliate link, even if they don't make their purchase right away.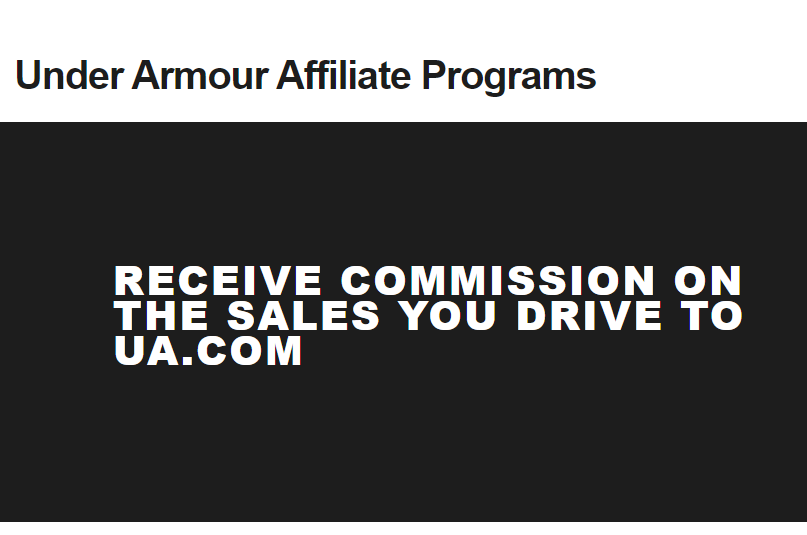 Signing up for its affiliate program is free. Upon completion, you won't just be provided marketing resources and a unique link to start promoting Under Armour products on your site. You'd also get access to reporting features for detailed statistics on your sales, as well as a wide range of creative collateral to use on your site or blog.
---
14. Wahoo Affiliate Program
You can also consider joining the affiliate program of Wahoo, a company that produces smart fitness equipment, apps, and wearables could be a great opportunity for you. Once you sign up, you'd get to create your own personalized URL and customize your promotional materials.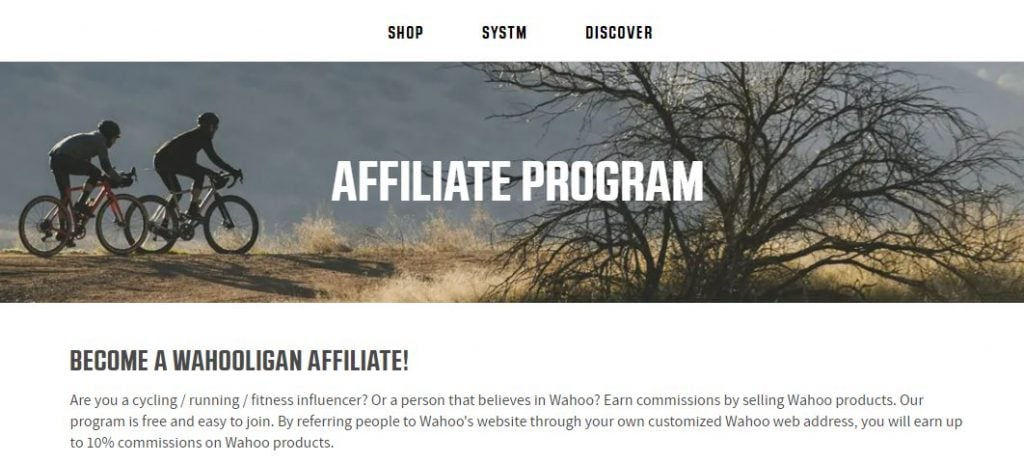 The Wahoo Fitness Affiliate Program allows you to share your passion for the company's products and earn some extra cash while doing so. You will receive a 10% commission on non-smart trainer items sold and a 7.5% commission on select smart trainers. The only catch is that commissions can only be given on purchases made with credit cards, at a minimum spend of $100. If you're okay with this, then joining won't be a problem.
---
15. Rogue Fitness Affiliate Program
Rogue Fitness affiliate program is a great way to earn commission on sales of their products that are purchased through your unique affiliate link. As an added bonus, you'll also get a free gift when you sign up as an affiliate.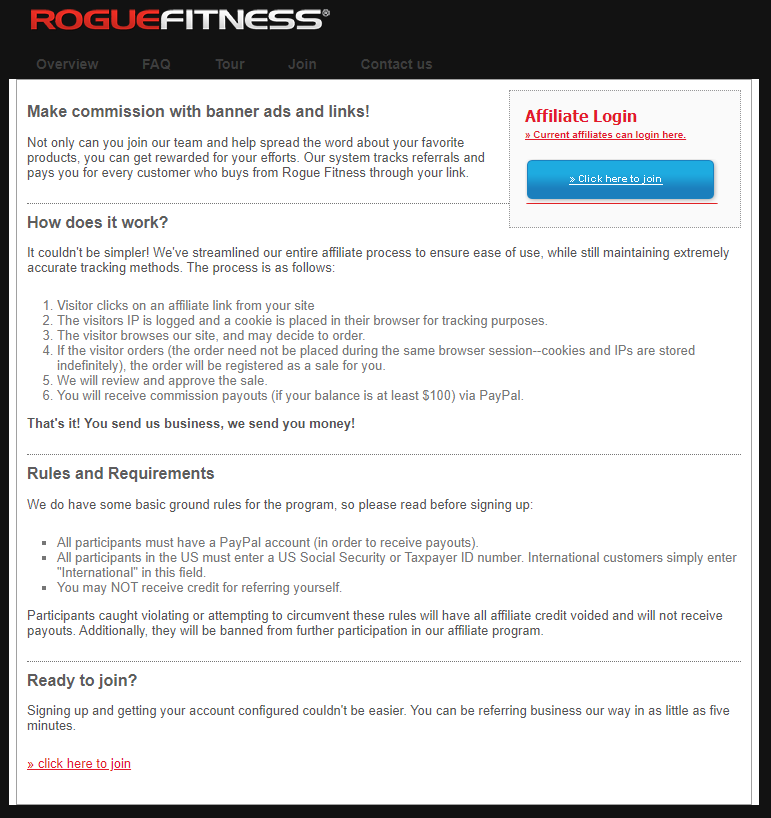 Joining the program is also free, and when you do, you'll get the chance to earn 5% for every sale that's made. Also, being an affiliate for Rogue Fitness requires you to have a PayPal account with at least $100 in your balance. It's not the ideal situation, but the company makes up for it by giving you access to a wide range of marketing resources and creative collaterals.
---
16. Argos Affiliate Program
Argos is one of Ireland's largest businesses, with more than 25,000 items available online and in-store, including sports and fitness equipment. As an Argos affiliate, you can start earning a 3% commission on all sales of products that are purchased through your unique affiliate link.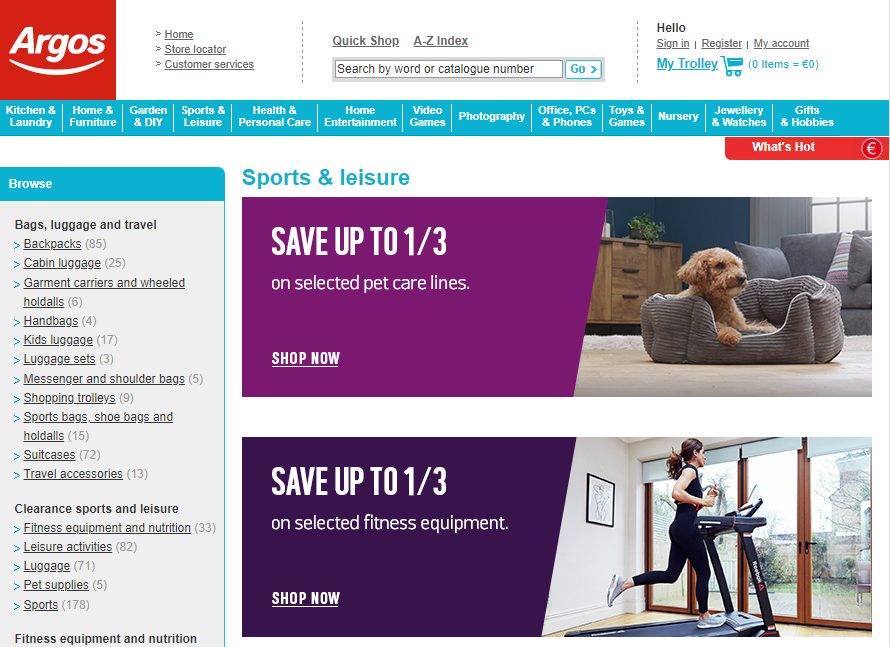 Signing up doesn't cost a thing. In fact, you can start promoting Argos products as soon as you're approved. While you could be based anywhere to be an affiliate, do note that Argos only delivers to the United Kingdom.
---
---
How to Choose the Right Health and Fitness Affiliate Program 
Being an affiliate marketer can be very rewarding if done correctly. You can earn a great income by promoting products or services that you believe in and that are valuable to your audience.
There are different health and fitness affiliate programs you can choose from. Some programs pay more or have better products, and some may be a better fit for your audience.
Here are a few things to consider when choosing a fitness affiliate program:
The products or services that are being promoted 
Do they align with your values and beliefs? Are they things your audience would find valuable?
How much will you earn for each sale? Is the program generous with commissions? Will the rate be worth your time and effort to market?
Do they have a good reputation in the industry? Are they known for providing high-quality products or services?
Cookies are how affiliate programs track your sales. When someone clicks on your affiliate link, a cookie is placed on their computer. This cookie allows the company to track any sale that comes from your link within a certain period of time. The longer the cookie duration, the better it is for you as an affiliate.
Some affiliate programs may be run by large companies with a team of people to support you. Others are mounted by a single person trying to promote their own products or services.
The support that the company provides
Do they have someone available to help you if you have questions or need assistance? Are they responsive to questions and concerns?
How will you receive your commissions? Does the company provide payment options that work for you?
Does the company allow you to promote other products or services in addition to its own? Are you required to only promote its products?
Choosing the right fitness affiliate program can be a bit overwhelming, but if you take the time to do your research and consider all of the factors listed above, you'll be able to narrow down your options and find a program that's a good fit for you and your audience.
---
Benefits of Joining a Health and Fitness Affiliate Program
Here are a few reasons why joining an affiliate program may be a good idea:
You can earn a generous commission and make money by promoting products or services that you believe in. Belief in the product and service is a key factor in whether or not someone will be successful in promoting it.
You can choose products and services that are relevant to your audience, allowing you to provide value to your followers.
You can build long-term partnerships with the companies that you're promoting. These partnerships may lead to exclusive deals or early access to new products or services.
You can learn more about marketing and hone skills in promoting products and services. This can help you in your future endeavors, whether they're related to fitness or not.
Promoting something that you're passionate about is generally fun. 
---
Final Thoughts
If you're a health and fitness enthusiast looking for a way to earn more money in 2022, joining a fitness affiliate program is a great option. By promoting health and fitness products or services, you can not only earn commission from every sale but also lead your audience to the fitness solutions they may be looking for. 
We hope this list has helped you narrow down your options and find a program that suits you.