[ad_1]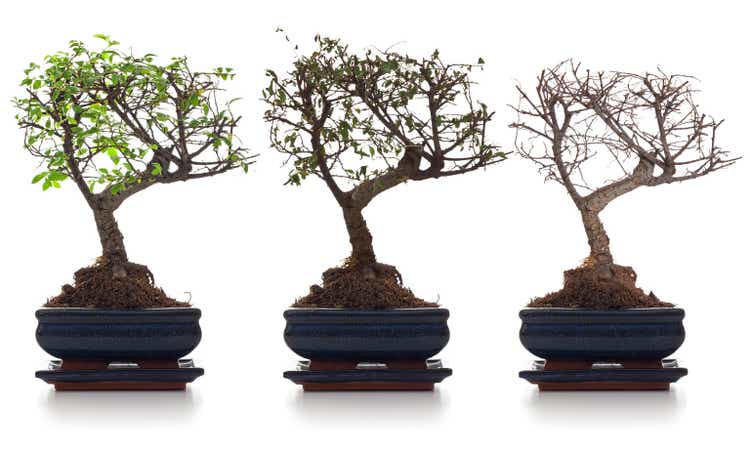 Global Net Lease (NYSE:GNL) is a net lease REIT which has struggled over its short history. GNL recently reported fourth quarter and full year results, most of which were positive. Today, we will dive into GNL's year end results and see what the future may hold.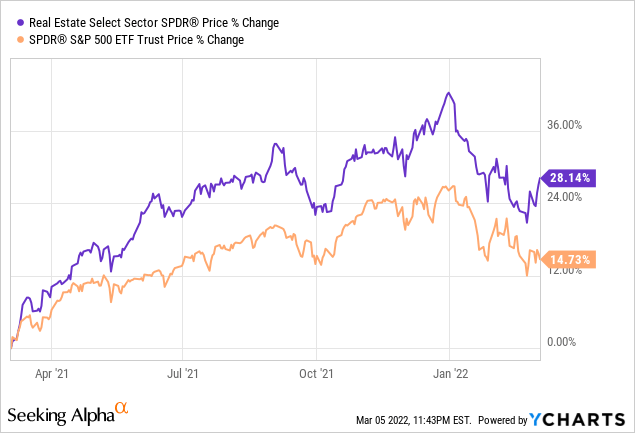 Net lease REITs operate a simple business model which has stood the test of time. These companies purchase properties and lease them to tenants with few landlord responsibilities. GNL owns a portfolio of properties under a "triple net" lease structure. Triple net leases assign property tax, insurance, and maintenance responsibilities to the tenant, alleviating the landlord of these liabilities.
The net lease sector is crowded and only gaining popularity. Some of these landlords are well established players, such as Realty Income (NYSE:O) or W.P. Carey (NYSE:WPC). Others are newer and still making a name for themselves, such as NETSTREIT (NYSE:NTST). With a durable and time tested business model, the differentiating factors often lie in the capabilities of the management team. Speaking broadly, net lease REITs have performed well over long time periods.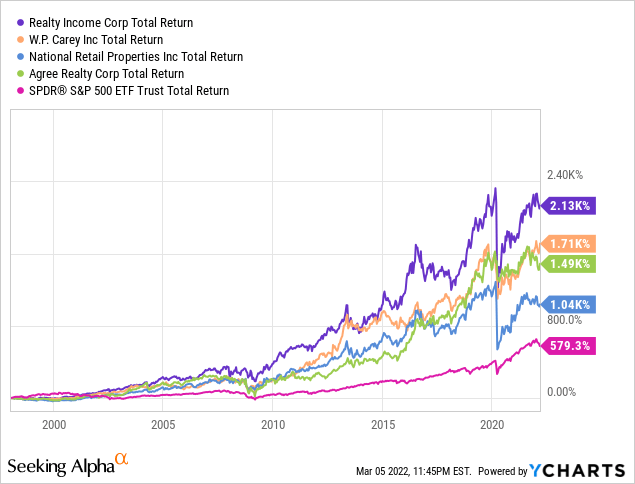 REITs must distribute 90% of their taxable income to shareholders in the form of a dividend to avoid corporate level taxes. This structure is financially efficient and results in steady, growing dividends for investors. These distribution rules generally result in upsized yield for shareholders. As one may expect, dividends are a focal point for REIT investors. GNL has the highest yield in the net lease community, garnering attention from shareholders looking to beat an antagonistic inflation rate.
Who is Global Net Lease?
Global Net Lease is an externally managed REIT focused on the acquisition and management of net lease commercial real estate across the globe. Similar to WPC, GNL has a focus on mission critical assets which are essential to the ongoing operations of their tenants. This is attractive in that it provides a sense of security that current tenants will not leave out of preference. In contrast, it also means that many tenants are smaller players with a lesser footprint.
GNL is small in comparison to its peers with a current equity market capitalization of $1.55 billion. The company owns 309 properties across 11 different countries. The portfolio is strong with 99% current occupancy, an 8.3 year WALT, and 94% of portfolio leases containing rent increases. Being that GNL is young in comparison to established peers such as O, a smaller portfolio should come as no surprise. Even still, GNL has been able to carve a unique niche in a crowded and highly competitive segment. GNL often gains attention due to a dividend yield which is uncharacteristically high for a net lease REIT. Most blue chip net lease players such as O and NNN have far more conservative yields than GNL which stands at 10%+. The yield is attractive at first look, especially given its premium to peers. However, yield traps exist across the market and there is a reason that GNL has a yield more than double O.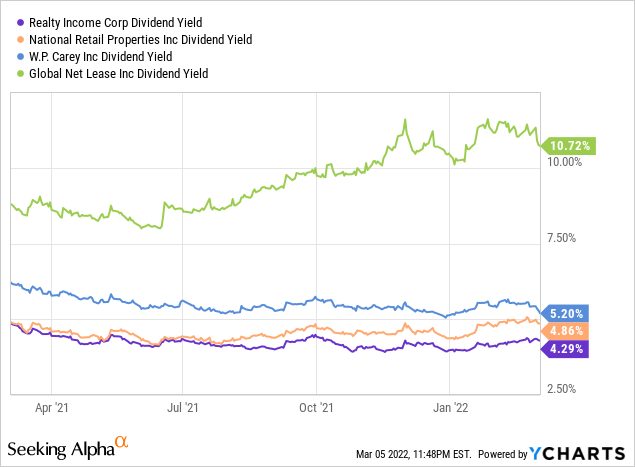 GNL recently reported fourth quarter and full year earnings for 2021. The results were interesting and indicative of some risk factors beginning to take hold. Let's explore the results and associated risks.
Acquisitions and Leasing
Looking back to January, GNL provided investors with a portfolio update including information covering 2021 acquisitions and leasing activity. GNL announced the acquisition of 25 properties totaling nearly $500 million. Excitingly, 85% of these assets are industrial, one of the hottest asset classes across the real estate market following the pandemic. The acquisitions had a weighted average going in cap rate of 7.8% with a weighted average remaining lease term of 17.2 years.
These cap rates are unusually high given current cap rates across market segments. Domestically, CBRE reported industrial cap rates are trading closer to four percent in a recent cap rate survey. Highly desirable assets in primary markets surely trade even more aggressively. Given the market for industrial assets is trading with cap rates half of GNL's acquisition cap rate, it begs an obvious question. How is GNL achieving these yields? The likely answer is sliding further down the quality spectrum in terms of both credit quality and real estate fundamentals. Generally speaking, sale leaseback transactions with private equity sponsored operators fit the bill of "mission critical" assets and can generate these yields. These tenants often have questionable balance sheets as a result of unproven histories and small scale. While the yield is great, the survivability of these tenants is questionable, even if their balance sheet is "investment grade" rated by an internal credit model. While we don't have visibility into their acquisitions comprehensively, we know they are chasing yield based on the reported average.
GNL also reported that they renewed or extended eleven leases over the course of the year. In total, these leases accounted for over 1.5 million SF which is a small portion of the overall portfolio. GNL does not report a comparison of these renewals or extensions, meaning it is difficult to tell if the renewals were higher or lower than previous year.
2021 Financial Results
GNL reported solid earnings results for both the fourth quarter and full fiscal year. Revenue increased 18.5% to $391.2 million from $330.1 million in 2020. Net operating income grew similarly as the company's acquisitions add revenue in the immediate term. An acquisitive strategy is generally a positive sign for REITs as additional properties diversify and strengthen the portfolio.
Looking beyond the surface acquisitions numbers, it's important to analyze whether these investments are accretive to shareholders. One of the most important metrics for measuring REIT performance is adjusted funds from operations per share. The gold standard in REIT metrics, AFFO per share provides a look at whether the company is adding value to each existing share. Despite strong top line growth in revenue and NOI, AFFO per share decreased by $0.01 year over year for the fourth quarter. On a full fiscal year basis, GNL comes out even further behind. We will note that they did not present a year over year comparison. In 2020, GNL reported AFFO per share of $1.79 which has decreased to $1.77 for 2021. This lack of growth is troubling and points to an inefficiency in the company's operations and strategy. New acquisitions should create an economy of scale for net lease REITs. Unfortunately, GNL's business continues to be diluted through share issuances and investments which do not add economic value.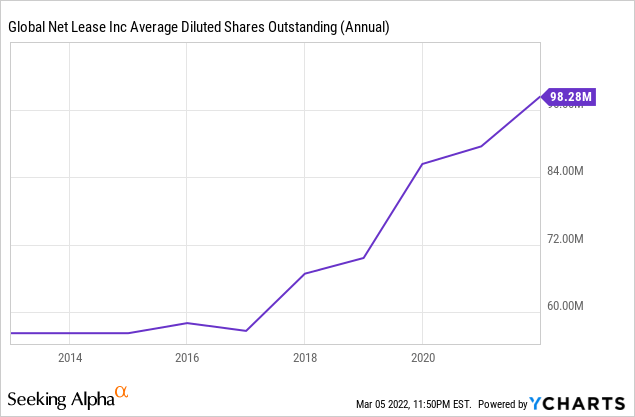 Conclusion
While GNL has continuously shown its ability to produce strong acquisition performance, a troubled history with efficiency creates long term risk for shareholders. Net lease REITs are a highly competitive business with many players competing for a limited number of assets. As we mention on many occasions, REITs and other similar businesses such as business development companies have defined success drivers. Bigger, more established operators benefit from advantages including relationships and experience. However, going further, we also see that blue chip businesses benefit from superior financing opportunities. Their lower cost of capital allows them to make more money on identical investments.
If GNL is going to compete against a blue chip operator like Realty Income, it has no choice but to chase yield to keep up. O has a vastly superior cost of capital which is most easily displayed in their interest expense. Recently issued fixed rate debt from O has an interest rate approximately 3.00% lower than GNL. In a world of low cap rate acquisitions, that difference is monumental and cannot be understated. Realty Income and similar operators can chase quality assets in strong…
[ad_2]

Source link