[ad_1]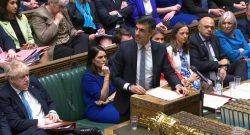 From: Mark Bray-Parry
spokesman for the Green Party
In response to: Spring Statement 'Brimmed With Good News' Says Guildford's MP But a 'Missed Opportunity' Say Lib Dems
If our MP Angela Richardson would like to better understand how the Spring Statement impacts households, she could do worse than look at the work by the Joseph Rountree Foundation.
It showed that by not raising benefits in line with inflation, the net impact on working-age household income was more than a five per cent reduction in income for households with the lowest income while those in the 6th to 8th decile of earnings (ie £50k – £72k) saw a moderate increase in income.
We have had two years of the Conservatives talk of "levelling up" only for their actions to widen wealth inequality. It would be even worse if it hadn't been for public pressure that led to several policy u-turns, including on free school meals.
The cost of living crisis we are seeing now is a direct result of failed energy policies. France, which has one of the lowest CO2 emissions from energy production, have half the inflation rate that the UK has. The UK Government has an opportunity to tackle both the cost of living crisis and CO2 emissions by directly investing in low carbon energy sources yet, instead, we hear talk of utilising the UK's oil and gas reserves.
Therefore, rather than "brimming with good news", this statement only widens wealth inequality in the UK.
I hope Angela Richardson would join me in calling for the Government to do more. Most importantly, the government must bring benefits in line with inflation and correct for the four-year freeze between 2016 and 2020.
It must also immediately begin a state-financed mass roll-out of low carbon energy technologies, including the funding of community-led schemes.
[ad_2]

Source link