[ad_1]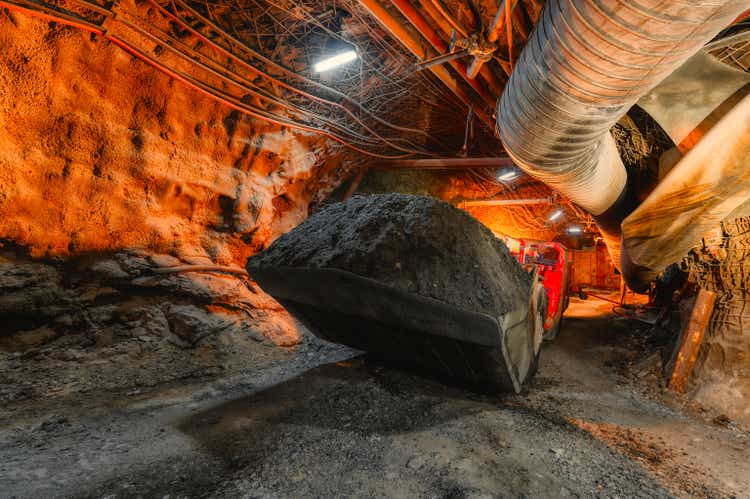 We're nearing the end of the Q4 Earnings Season for the Gold Juniors Index (GDXJ), and as usual, the best is rarely saved for last. The most recent company to release its results was Pure Gold Mining (OTCPK:LRTNF), which reported a massive miss on H2 production guidance, and has entered the year with a more bloated share count. Unfortunately, with the company still not free-cash-flow positive and carrying significant debt, more share dilution looks likely, especially with the lukewarm H1 2022 guidance. While Pure Gold trades at an enterprise value typically reserved for a developer, not a producer, I continue to see the stock as cheap for a reason.
All figures are in United States Dollars at a 0.80 to 1.0 Canadian Dollar to US Dollar exchange rate unless otherwise noted.
Pure Gold Mining released its Q4 and FY2021 results last week, reporting Q4 production of ~7,600 ounces, a massive miss vs. the H2 2021 guidance that was provided, and a meaningful decline on a sequential basis. This weak quarter was unable to push annual production above the 30,000-ounce mark, with annual production coming in at just ~26,900 ounces, below the low end of the company's H2 2021 guidance of 27,000 to 32,000 ounces. Not surprisingly, the market didn't love the report, nor did it like that more share dilution might be on the way. Let's take a closer look below:
As shown in the chart above, mill throughput actually decreased sequentially in Q4, dipping back below 52,000 tonnes after a meaningful improvement with ~61,500 tonnes processed in Q4. This was not helped by flat head grades in the period of 4.8 grams per tonne gold. These metrics were well below the guidance provided during the Q4 announcement of a mine leadership change when previous CEO Darin Labrenz provided a Q4 guidance midpoint of 650 tonnes per day of production at a head grade of 5.5 – 6.5 grams per tonne gold.
The good news is that the mill has proven that it can operate at more than 800 tonnes per day, and upgrades are planned for the gravity circuit to improve recovery rates above the expected 95% recovery rate. Unfortunately, it's the mining side of the operation the bottleneck, which has led to having to blend low-grade material and stockpiles, impacting the feed grade. As noted by Pure Gold, mined tonnes and gold grade have been lower than forecasted on average due to shortages of high-grade ore at various times. The cause of this issue is development delays, insufficient scheduling flexibility, insufficient geological information available for stopes, equipment downtime, and strategic misalignments.
With a new CEO in place and a new Chief Operating Officer and General Manager, the company appears confident that it can turn things around. During the Q4 release, Pure Gold shared that it is seeing early signs of progress in the December results, and a geologic confidence-based model has been implemented to standardize decision-making and improve mining scheduling/planning. Meanwhile, the company has increased its definition drilling program to provide mine planners with better information to improve stope designs and scheduling flexibility.
The strategy of a meaningful increase in definition drilling worked well for Pretium (PVG) under Jacques Perron, which was able to turn things around under his new leadership. However, Pure Gold and Pretium are two different situations. This is because while Pretium was seeing a large variance in grades sequentially, which led to volatile quarterly results, it was free-cash-flow positive and was successfully paying down its debt. In Pure Gold's case, it's nowhere near being free-cash-flow positive, and with this being a much smaller operation (~90,000 ounces vs. ~350,000 ounces), there's much less margin for error.
This is a step in the right direction, but it's bizarre that it's taken a year to get to this point, and considerable damage has been inflicted already. The evidence is a share count that's increased ~32% from November 2019 levels due to meaningful share dilution at new 52-week lows. The massive increase in the share count means lower free cash flow per share, lower reserves per share, and lower net asset value per share. In addition, there's now a considerable warrant overhang at higher prices. So, even if this is a short-term issue, it has long-term consequences.
Fortunately, the new team appears confident and is focused on walking before they run. They've also offered up more achievable guidance figures. This is a breath of fresh air vs. the previous team which was great at marketing and discussing the upside case but probably should have spent more time getting this mine to a position of operating at least remotely close to the initial mine plan. Having said that, the key will be successful execution. Let's take a look at the financial results:
Financial Results & Share Structure
Moving to the financial results, it's no surprise that the results have been ugly, with annual revenue of just C$56.6 million [US$45.3 million]. This led to a net loss of C$34.9 million [US$27.9 million], with a mine operating loss of C$13.2 million [US$10.5 million] in Q4. This has not helped with debt reduction or improving the balance sheet, with long-term debt sitting just above $90 million at year-end and a cash balance of just ~$5 million.
Based on H1 2022 guidance of ~17,500 ounces at the midpoint or ~650 tonnes per day at 4.5 grams per tonne gold, progress will come at a snail's pace. In fact, grades are forecasted to be lower than H2 2021 levels based on an average head grade of 4.0 to 5.0 grams per tonne gold. So, even if the company does manage to secure financing and meet its goals, this should still be another sub-50,000-ounce year from a production standpoint.
The most disappointing part about this lukewarm H1 2022 guidance is the fact that Pure Gold will not be benefiting much from the much higher gold price than if it was operating at similar levels to the mine plan at ~20,000 ounces per quarter. The bigger issue, though, is that Pure Gold will not generate positive free cash flow at these production rates, and it's in dire need of cash flow sitting given that it must service its debt and have a minimum $12 million cash balance requirement. As the company warned in its recent corporate update, the company will require $40 million in external capital and will not be providing cost guidance until June 2022.
"At the date of this MD&A, the Company's cash balance is approximately $6 million. The Company expects it will need to seek additional financing in the next 30 days to fund operations and to service the interest on its debt. In December 2021, and further amended in January 2022, the Company signed a second amendment to its Credit Facility, to defer certain working capital covenants as well as to include a temporary reduction of a minimum cash balance requirement, and deferral of the completion test from December 31, 2021 to June 30, 2022.
– Pure Gold Company Filings
So, while other producers are building up their balance sheets to fund growth, share buybacks, and potentially increase their dividends to stand out among their peer group, Pure Gold is in a position of weakness, to say the least. This is the worst position to be in when it comes to needing to raise additional capital and suggests that if we do see additional share dilution, it isn't likely to be at favorable prices.
Valuation
Following the steady stream of share dilution we've seen, Pure Gold now has ~501 million shares…
[ad_2]

Source link